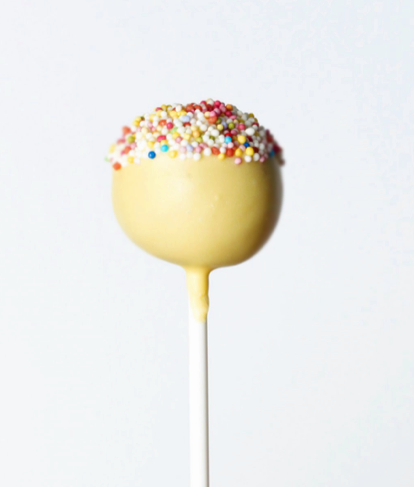 Cake pops have taken the baking world by storm in recent times and I can safely say that this makes me happy.  Hailed as the new cupcake, these balls of cake on sticks are not only tasty but exciting to make! They offer the baker freedom to create different flavour combinations and unlimited designs. These range from the classic lollipop sphere to owls and Russian dolls.
Arguably a large majority of noted cake pop bakers hail from the US, but we are lucky to have some big names in the UK too! Clare O'Connell is one half of the mother daughter company POP bakery. Not only does she own a popular baking company (POP Bakery), she has also written a book with great tips and advice for making your own.
Clare kindly took time out of a very busy schedule to answer some questions about creating cake pops and catering for Topshop!
So what got you interested in the world of cake pop making?
I was always interested in making cakes. I had a small business that I was nearly going to really go for making cupcakes with kids, called little bakers and then I found the product [cake pops] and realised they would be a better idea.
I love how varied your designs are, where do you get your inspiration from?
We take inspiration from customers mostly, almost all the things we have come up with have been because of customer requests.
So something like the Russian dolls were for the Urban Outfitters press day, they wanted something Russian inspired for their autumn winter collection etc.
Why do you think cake pops have become so popular recently?
Convenient food, the fact that they are on a stick, and also an overload of cupcakes meant there was a big gap in the market for a new confectionary piece. It's also great how much you can customise them!
What are some of the big companies that you have catered for and what did you make?
Topshop all the time, making leopard POPs.
I'm doing lots of fashion stuff this week, Grazia magazine, Karen Millan, Hennes and Topshop, all wanting snowflake POPs for the Christmas period. The more interesting POPs are normally private customers though, they can be more inventive.
What is your next goes or hope for your business?
I hope to sell lots of the new book and then come up with a new concept for a POP 3! It's out in February and I am sooo proud of it!

What one piece of advice would you give to someone trying to make cake pops for the first time?
Patience is the key, they do take a lot of trial and error.  If I think about my first ones that I was making for a very important meeting and they were all lumpy but they still loved them.
All top POP secrets will be in the new book though!
And finally, what is your personal favourite of your cake pops at the moment?
My new favourite are the Russian dolls in leopard print and spikes, also the snow babies I am loving, so cute!
Check out the POP bakery website and get ordering! I can't resist and have to order the Russian Dolls POPs.